Hi, I'm Susanne Ekström,
the Founder and CEO of
BeASmarterLeader &
SEE Management.
"We Bring Out Smarter Leaders in This World" 


Hi, I'm Susanne Ekström,
the Founder and CEO of

BeASmarterLeader &
SEE Management.

"We Bring Out Smarter Leaders
in This World"
Hi, I'm Susanne Ekström, 
the Founder and CEO
of BeASmarterLeader
& SEE Management. 


"We Bring Out Smarter
Leaders in This World" 
MY STRATEGY WAS BORN OUT OF CLIENT NEEDS AND BASKETBALL
WHEN I WAS A TEENAGER, I loved basketball and played with my high school team every day.
I wanted to play guard, but my coach told me to play center because I'm tall. He did not explain why I couldn't play guard, and I slowly started performing worse and worse because I felt I was not good enough.
I got low self-esteem, felt anxious to go to training, and was not motivated to play anymore. One day I just left the team and never came back.
I HAVE REALIZED THE IMPORTANCE of the fact that you need to ask questions both to employees and to customers as a leader.
Do not tell them what to do or buy - ask them about their opinion!
AND - that's what my basketball coach didn't do. He didn't ask for my opinion. Due to poor leadership, he let a motivated team player gradually become unmotivated and then leave the team never to play basketball again.
I often say that CULTURE EATS STRUCTURE for breakfast any day, and if you don't listen to your team about their ideas and problems, you won't win so many matches.
THE INSIGHTS ABOVE are part of the CORE of our program for CEOs,
whose company revenue is between $8-20 Million:
$499k in 99day: Bold Breakthrough CEO Challenge
INDUSTRY WINNER 2023
An Industry Winner is a company that has surpassed its own industry's development in both turnover and results. 
The award is based on the financial statements submitted by all limited companies within the industry in question. On average, only 11.7% of Sweden's limited companies are awarded the Industry Winner 2023 award.
NORDIC GROWTH COMPANY
2 YEARS IN A ROW
– An award only 5 % of all Nordic companies qualify for.
SEE Management (the owner of the brand BeaSmarterLeader) is one of 5% of companies in the Nordic region that are classified as a growth company!
UC appoints the fastest growing companies in the Nordic region and is Sweden's leading business and credit reference agency.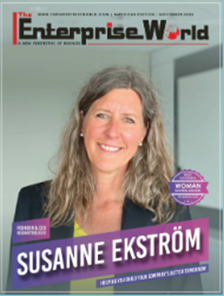 MOST SUCCESSFUL WOMAN BUSINESS LEADERS TO WATCH OUT
The Enterprise World is proud to feature these successful leaders who with their creative and ingenious solutions have proved to be beacons of hope for the new generation of entrepreneurs and are inspiring many more with their extraordinary journey
SEE MANAGEMENT HAS RECEIVED THE FOLLOWING AWARD
"Top Change Management Consulting/ Services in Europe - 2020.
One of ten companies that are at the forefront of providing Change Management Consulting/Services and impacting businesses"
CLICK HERE to read the article about SEE Management, Susanne and our 7 step strategy, that is called:
THE GAME CHANGER - Your EyeOpening Profit Producing System.
EXECUTIVE CONTRIBUTOR, BRAINZ MAGAZINE
Susanne is an executive contributor at Brainz Magazine. These executive contributers are handpicked and invited to contribute because of their knowledge and valuable insight within their area of expertise.
Brainz Magazine is a global digital magazine focusing on exclusive interviews, articles and information on entrepreneurship, personal development, leadership and lifestyle.
After 30 years in the management consulting business,
we know a thing or two about serving people.
You have our promise that our team is always:
⚆ PUTTING OUR CLIENTS FIRST
We respond as urgently as your situation requires.


⚆ BEING BOLD
We're problem-solvers who don't shy away from a challenge.


⚆ TAKING ACTION
We're ready for anything, always.
"When I think of someone who is truly passionate about helping likeminded business owners, CEO's and industry leaders succeed in business and has the ability to not only meet her clients' expectations, but exceeding them every time, Susanne immediately comes to mind. She is a rare example of a dynamic, forward-thinking entrepreneur possessing powerful expert knowledge and innate executive leadership skills with the ability to navigate complex business environments to deliver exceptional outcomes for the clients, and businesses she serves and represents. Susanne's approachability, talent to connect with businesses and people, and industry-specific awareness are only a few of the many traits that make her such a respected transformational coach. Her enthusiasm and dedication to her work is both inspiring and motivating and for these reasons alone I recommend connecting working with Susanne without hesitation."
Christina Tilly
Swisslog: data-driven & robotic logistics
"Susanne has a solid background in business development, which has resulted in several highly qualified assignments through her + 20 years as a management consultant. With her deep business knowledge, Susanne is demonstrably one of the most meritorious in the Swedish consulting market, as shown, if nothing else, by her assignment history and associated evaluations. Her way of working is characterized by high efficiency coupled with a large portion of humility, which is much appreciated."
Mats Brocker
CEO, Municipality
"Susanne is one of those people you're glad to have onboard. She understands the situation faster and deeper than others; she´ll get a hold on the complexity and respectfully serve it in a simple understandable way and almost secretly she delivers with a tremendous capacity. Combine that with a disarming sence of humor and you understand why I´d love to sail with Susanne again."
Sven Täpptorp
Group Business Developer, Västra Götalandsregionen
DO YOU SEE THE BIGGER PICTURE OF YOUR BUSINESS?
Do you recognize the tree and forest instead of just the bark of your tree?
To grow and be more productive, you need to see the whole 'company tree' and 'tree:t' it in a nurturous way - and not 'leaf' it alone.
Is this how you SEE your business?
This photo symbolizes the operative glasses of your business. If you spend too much time with these glasses on, you will lose the ability to see the bigger picture.
Is this how you SEE your business?
With these glasses on, you view your business with a little more farsighted type of glasses. 
Is this how you SEE your business?
Do you see your business with glasses that give you a bird's eye view? If so - this is excellent! You should wear this type of glasses most of your time.
NOW YOU'VE LEARNED A LITTLE ABOUT MY STORY,
I can't wait to hear yours.